As the days are a little longer, many activities return to the water, with Kinsale OEC Kayak Club starting on Saturday 11th March 2017 at for 14+ years. The course is €80 for 4 weeks. There are also Easter Camps during the school holidays, see www.kinsaleoutdoors.com
There is plenty of live music in Kinsale over the weekend with Sound Dog playing Sam's Bar, Live Lees at the White House at 10.30pm,  Grainne Ryan and Band at The Blue Haven on Saturday at 10pm, I-Funk at The Folk House, Free Beer at the Armada Bar, followed by DJ Sean at Bacchus and DJ Niall at Hamlet's.
On Sunday 12th March, Don & Barry's award winning walking tours return at 11.15am daily from Kinsale Tourist Office.
Kinsale Community School Tractor Run takes place at Belgooly GAA Grounds at 12 noon – a fundraiser for the new all weather pitch and track. All welcome.
Music-wise, The Blue Haven has regular Trad Sessions at 8.30pm, The Americhanics play a residency at Sam's Bar and King K play their residency at The Folkhouse from 9pm.
Kinsale Business Hub started very well last week and continues at Hamlet's from 12-5pm. It is a great opportunity for local businesses and visitors wishing to do some work and avail of free wifi, thanks to Hamlet's. All welcome.
On Thursday 16th March 2017, there will be a wreath laying ceremony at the bust of the McCarthy Brothers with Kinsale History Society at 6pm. For the full story click here.
This will be followed at 7.30pm by the St. Patrick's Maritime Parade from Kinsale YC and Fireworks on the Pier – remember to keep pets inside.
The Foredeck Bar re-opens at The Trident Hotel from 6pm-10pm and there will be a Harbour-side BBQ from 6.30pm. Mike Riordan & guest play The Blue Haven at 9.30pm and Mike & Rory play The Folkhouse at 10pm.
What's more, check out our fantastic competition on Facebook by clicking this link to WIN dinner for two at The Blue Haven Hotel on 16th March, before or after the Maritime Parade and Fireworks.
On St. Patrick's Day, Friday 17th March 2017, there is an action-packed schedule of activity. Kinsale Museum open 10am to 4pm. There will be a Ceili at 2pm, followed by Free Face Painting/music at Emmet Place and Free Face Painting, Balloons, throughout town from 2pm.
The highlight of the day, The Street Parade starts at The Glen at 4pm and parades through the town and along the Pier Road, entertaining the crowds.
To celebrate the St. Patrick's Day celebrations, The Foredeck Bar is open 4pm-9pm with a Dockside BBQ from 4pm. Later that evening there will be traditional Irish Music and Dancers from 10pm, DJ Mark plays the Bacchus Nightclub and GDR play the Folkhouse at 10.30pm.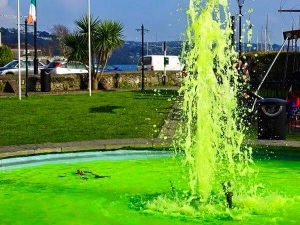 Happy St Patrick's Day to all our followers and visitors!