Annex at Kilcaw House,
Kilcaw, Kinsale, Co. Cork, P17 F850 Ireland
Tel: 021 470 9310 Mob: 086 2022 628
[email protected]
http://www.kilcawhouse.com
The Annex at Kilcaw House is a newly refurbished one bedroom Executive apartment situated in a peaceful countryside location, just 1km north of Kinsale town centre. It can sleep up to 5 people sharing with one double bed, two single bunk beds and one pull out sofa bed. Due to its design and layout, The Annex has a bright and spacious, airy feel and is fully equipped with all modern appliances including new gas central heating, large rainforest shower, locally handcrafted bespoke kitchen, Wi fi, and a 48 inch multi channel flat screen TV.
The apartment is immediately adjacent to Kilcaw House B&B which is located a stones throw from the beautiful Adbrack/Summercove area, where you can either take a leisurely stroll into town via the famous Scilly Harbour Walk or immerse yourself in a piece of local history by wandering up to the nearby Charles Fort. If it's dining you're looking for, then why not call in to one of the local gastro pubs, The Spaniard or The Bulman Bar.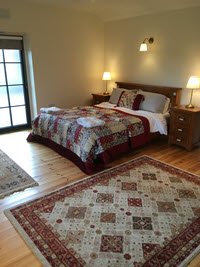 Our establishment has ample safe parking with beautifully landscaped gardens and since we are literally the first stop on the Wild Atlantic Way your stay with us is sure to be a memorable one, as guest satisfaction and comfort is our absolute priority.
Close enough to walk (1km) and far enough away from the busy streets, The Annex at Kilcaw House is the perfect peaceful retreat for the discerning visitor.
Kilcaw, Kinsale, Co. Cork, P17 F850 Ireland
Tel: 021 470 9310 Mob: 086 2022 628
[email protected]
http://www.kilcawhouse.com