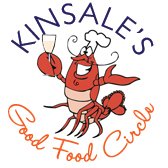 Join us for the 39th Kinsale Gourmet Festival from 9th-11th October 2015
Cork Heat of the All Ireland Chowder Cook Off
The Cork Heat of the All Ireland Chowder Cook Off will take place on Friday afternoon (9th October 2015)

The 39th Kinsale Gourmet Festival – Official Opening & Taste of West Cork Dining Experience (2015)
Official Opening & Champagne Reception followed by 'A Taste of West Cork' Restaurant Dining Experience – includes a 5 course menu
The Mad Hatters Taste of Kinsale 2015
The 'Infamous' Mad Hatters Taste of Kinsale. An escorted fun foodie walking tour of the 11 members of Kinsale's Good Food Circle.
The 39th Kinsale Gourmet Festival – Fruits de Mer Luncheon (2015)
A superb 4 course seafood platter luncheon including lobster, crab, prawns etc accompanied by delicious wines. Followed by music and entertainment for the afternoon.